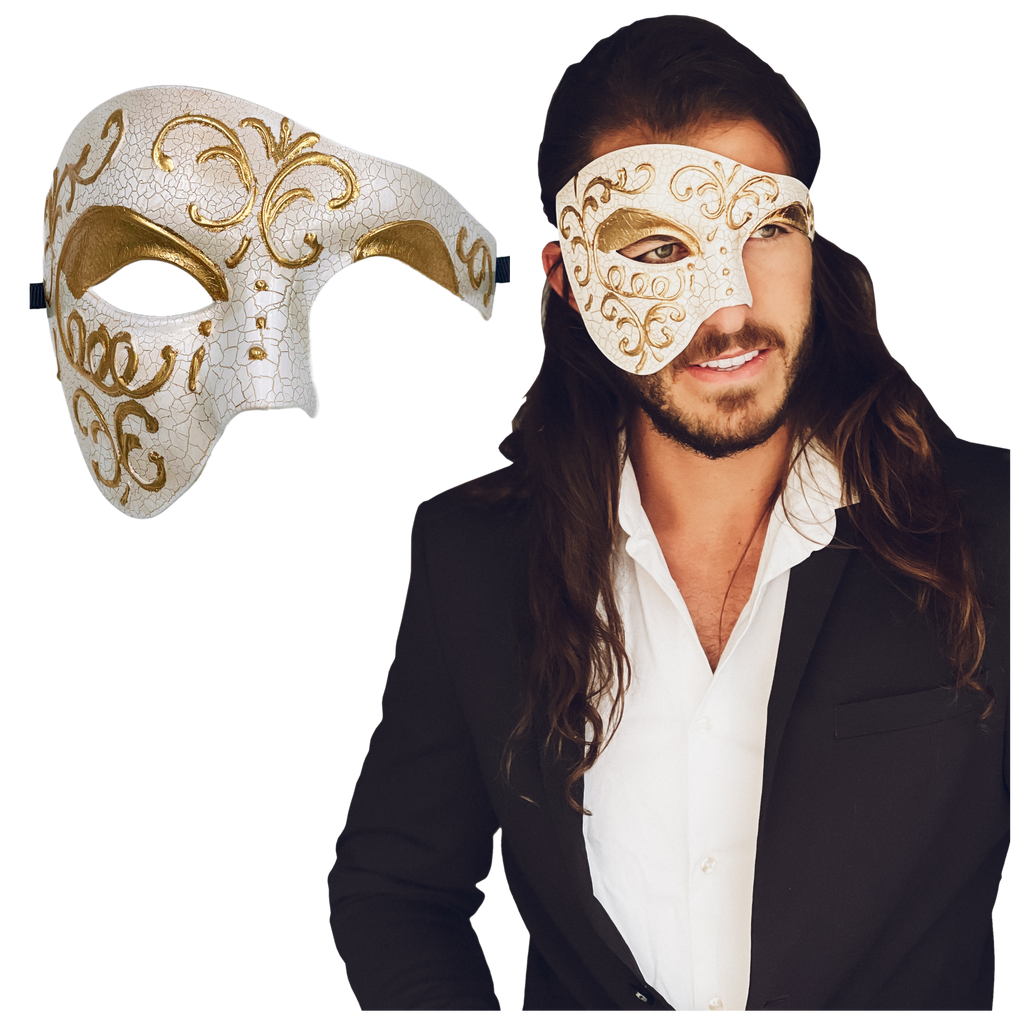 Introduction: Step into a world of elegance, allure, and hidden identities with our mesmerizing Masquerade Mask for Men. Inspired by the iconic Phantom of the Opera, this exquisite gold Venetian half face mask is the epitome of sophistication and mystery. Whether you're attending a masquerade ball, Mardi Gras celebration, prom, or any special occasion, this mask is the perfect accessory to elevate your ensemble and make a lasting impression.
Embrace the Enchanting Spirit of the Masquerade: The Masquerade Mask for Men is not just a fashion statement; it's a symbol of intrigue and enchantment. As you adorn this magnificent mask, let your imagination soar and transport yourself into a world of hidden identities, secret rendezvous, and endless possibilities. Embrace the allure of the masquerade and prepare to captivate those around you.

Exquisite Design and Unmatched Craftsmanship: Crafted with meticulous attention to detail, our Phantom of the Opera-inspired mask boasts intricate designs that are a true work of art. The gold color adds a touch of opulence and elegance, instantly transforming you into a vision of sophistication. The mask fits comfortably on your face, allowing you to dance, socialize, and revel in the festivities without any discomfort.

Make a Memorable Entrance: There's nothing quite like making a grand entrance, and our Masquerade Mask for Men ensures just that. As you glide into the event, heads will turn, whispers will abound, and all eyes will be on you. Embrace the spotlight and let the mask become an extension of your persona, adding an air of mystique and intrigue to your presence.

Versatile and Perfect for Any Occasion: Whether it's a prom, Halloween party, themed event, or a glamorous masquerade ball, our Masquerade Mask for Men is the ultimate accessory to complete your ensemble. Its versatile design allows it to effortlessly complement a range of costumes, while its timeless appeal ensures it never goes out of style. Prepare to steal the show and leave a lasting impression wherever you go.
Conclusion: Unleash your inner phantom with our captivating Masquerade Mask for Men. Embrace the enchantment, elegance, and allure of the masquerade as you don this exquisite gold Venetian half face mask. Whether you're attending a glamorous event or simply indulging in the joy of dressing up, this mask is sure to elevate your experience and create unforgettable memories. So, step into the world of hidden identities and mesmerizing charm – it's time to make your mark at the next grand affair.
Experience the magic for yourself! Visit our website to explore our Masquerade Mask for Men and embrace the mystique of the masquerade. Unleash your inner phantom and prepare to captivate the world with your charm and elegance.