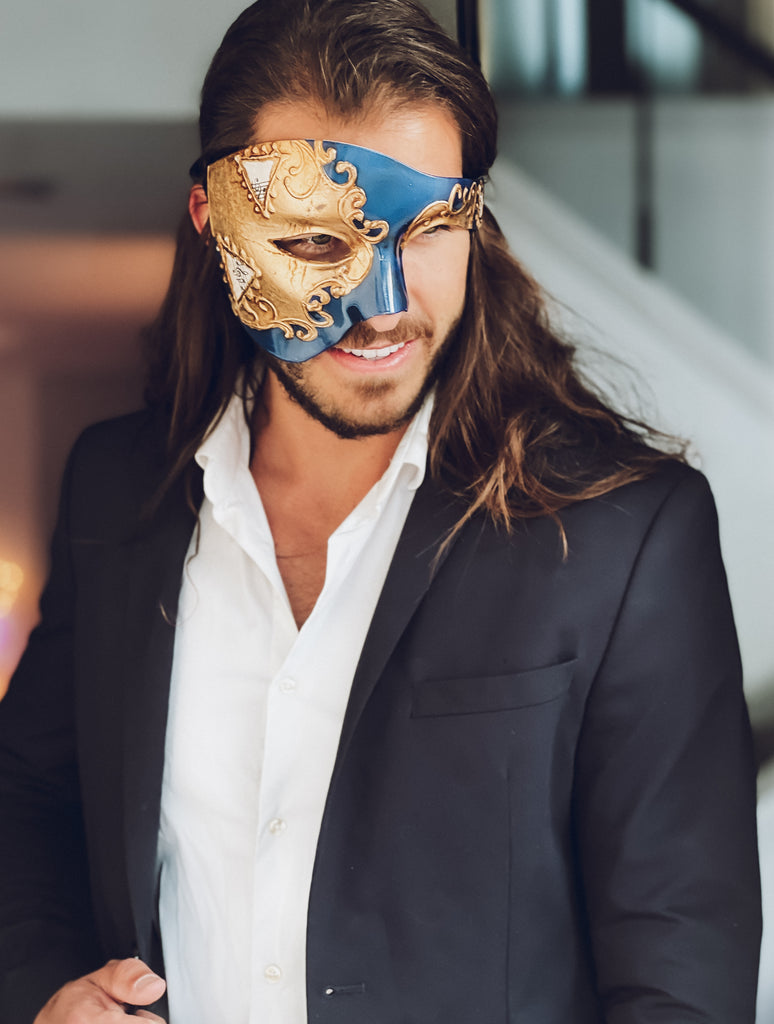 Introduction: Welcome to luxurymask.com, your ultimate destination for opulent accessories that exude sophistication and mystique. Today, we are thrilled to present our exquisite Masquerade Mask for Men, inspired by the legendary Phantom of the Opera. This extraordinary piece combines the allure of Prom, Mardi Gras, Halloween, and Venetian masquerades, creating a unique and captivating experience. Allow us to take you on a journey through the enchanting world of this Blue Gold Venetian Half Face Mask.
Unmasking the Phantom: As lovers of theatrical splendor and timeless classics, we couldn't resist the allure of the Phantom of the Opera. Our Masquerade Mask for Men pays homage to this iconic character, embodying his enigmatic charm and mystery. Crafted with meticulous attention to detail, this mask captures the essence of the Phantom's enigmatic persona.

A Showstopper for Prom: Prom night is an occasion where elegance and style intertwine, leaving a lasting impression. Our Masquerade Mask for Men is the perfect accessory to complement your attire, elevating your look to new heights of sophistication. The combination of blue and gold hues creates a mesmerizing visual impact that will surely turn heads as you dance the night away.

Mardi Gras Magic: Mardi Gras is synonymous with extravagance and celebration. Our Masquerade Mask for Men embraces the spirit of this joyous occasion with its vibrant colors and intricate design. Whether you're attending a Mardi Gras ball or marching in a parade, this mask will make you the center of attention, allowing you to embrace the festive spirit with style and panache.

Hauntingly Beautiful Halloween: As the air turns chilly and the leaves change their colors, Halloween arrives with its air of mystery and enchantment. Our Masquerade Mask for Men provides the perfect finishing touch to your Halloween costume, adding an element of intrigue and sophistication. Let your imagination run wild as you transform into a character straight out of a Gothic novel, capturing the essence of the season.

Venetian Glamour: Originating from the captivating city of Venice, our mask draws inspiration from the Venetian carnival tradition. The half-face design showcases intricate detailing and a delicate balance between elegance and allure. Its Blue Gold color combination adds a touch of regal glamour, ensuring you make a statement at any masquerade event.
Conclusion: Indulge in the splendor of our Masquerade Mask for Men - a timeless treasure that transcends occasions and captivates hearts. Luxurymask.com is proud to offer you this exceptional accessory, meticulously crafted to bring out your inner charisma and sophistication. Unleash your hidden desires, embrace the allure of the masquerade, and elevate your style to unparalleled heights.